OCCS (Onboard Carbon Capture System)
OCCS (Onboard Carbon Capture System)
IMO GHG(Greenhouse Gas) Emissions Strategy:
1) Reduce carbon intensity at least 40% by 2030, pursuing efforts towards 70% by 2050
2) Reduce total annual GHG emission 50% by 2050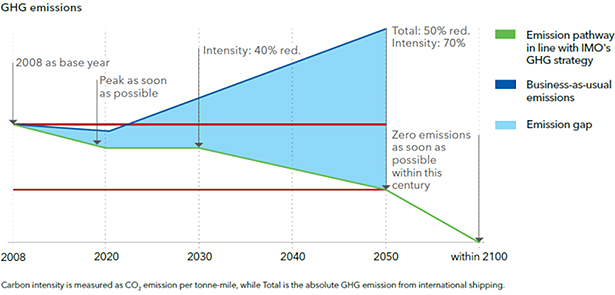 Source: DNV GL (2018)
Onboard Carbon Capture and Storage System (OCCS)
- HI AIR Korea's OCCS captures and stores carbon dioxide emitted from the use of fossil fuels in ships.
- HI AIR Korea has acquired 7 patents jointly with DSME. The patent numbers are 1020200132181, 1020200139682, 1020200139692 and etc.
- HI AIR Korea provides a design that optimizes the carbon capture rate to satisfy the ship's operational data and requirements.